Recipes from our dish at The Smoke & Fire Festival in Bexley – 8/26/23
Our dish at the Smoke & Fire Festival was garlic focaccia bread that had a small spread of Duke's mayonnaise on it, which was then topped with reverse-seared picanha steak, homemade chimichurri and pickled red onions. This dish won us first place! The recipes for each individual item is below, all you have to do is assemble the sandwich or make it an appetizer with small bites like we did at this festival.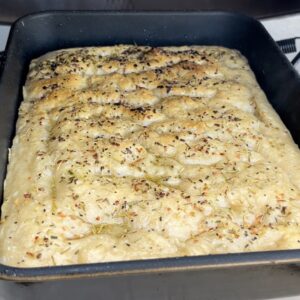 Focaccia Bread
Ingredients
4

Cups (512 g)

Bread Flour

2

TSP (10g)

Kosher Salt

2

TSP (8g)

Instant Yeast

2

Cups

Lukewarm Water

2

TBS

Honey or Agave

4

TBS

Olive Oil

Butter for greasing
Optional
Herbs, garlic, tomatoes, etc to top bread with
Instructions
In a large bowl, whisk together the flour, salt, honey and instant yeast. Add the water. Using a rubber spatula, mix until the liquid is absorbed and the ingredients form a sticky dough ball. Rub the surface of the dough lightly with olive oil. Cover the bowl with plastic wrap and place in the refrigerator immediately for at least 12 hours or for as long as three days.

Line two 8 or 9 inch pie plates or a 9×13-inch pan with parchment paper or grease with butter or coat with nonstick cooking spray. Pour a tablespoon of oil into the center of each pan or 2 tablespoons of oil if using the 9×13-inch pan. Using two forks, deflate the dough by releasing it from the sides of the bowl and pulling it toward the center. Rotate the bowl in quarter turns as you deflate, turning the mass into a rough ball.

Use the forks to split the dough into two equal pieces (or do not split if using the 9×13-inch pan). Place one piece into one of the prepared pans. Roll the dough ball in the oil to coat it all over, forming a rough ball. Repeat with the remaining piece. Let the dough balls rest for 3 to 4 hours depending on the temperature of your kitchen (Note: no need to cover for this room temperature rise).

Set oven or Big Green Egg with covEGGtor to 425°F. (Here you can add seasoning/herbs to the top of the dough like rosemary, garlic, tomato slices, etc.) Pour a tablespoon of oil over each round of dough (or two tablespoons if using a 9×13-inch pan).  Rub your hands lightly in the oil to coat, then, using all of your fingers, press straight down to create deep dimples. If necessary, gently stretch the dough as you dimple to allow the dough to fill the pan. Sprinkle with flaky sea salt all over.

Transfer your pan to the oven or Big Green Egg and bake for 25 to 30 minutes, until the underside is golden and crisp. Remove the pan and transfer the focaccia to a cooling rack. Let it cool for 10 minutes before cutting and serving; let it cool completely if you are halving it with the intention of making a sandwich.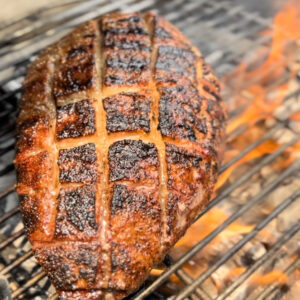 Reverse Seared Picanha Steak
Ingredients
Picanha Steak or Tri Tip

Lane's Brisket Rub

You can also use a mixture of salt, pepper & garlic powder

Meat Thermometer
Instructions
Pat down the meat to make sure that it's dry from any excess moisture. Score the fat cap 1/8″ in a criss-cross pattern and generously season all sides with your seasoning. 

Set your grill for indirect heat, or preheat your smoker. You want to maintain 225-250˚F. Cook the picanha for roughly 60-90 minutes until the internal temperature is 115°F (medium rare prep). Remove the meat from the grill, and turn the heat up to 450-500°F.

Sear the meat, flipping frequently to control the momentum of the temperature. The fat cap may flare up. Once you have the perfect crust and your internal temperature is ready (130-135°F medium rare) remove the picanha and allow it to rest for at least 10 minutes, tented under foil.

Slice against the grain and enjoy!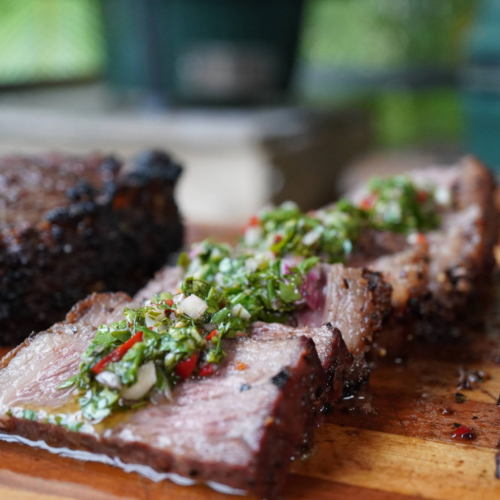 Chimichurri
Ingredients
1/3

Cup

Olive Oil

2

TBS

Red Wine Vinegar

1/4

Cup

Finely Chopped Fresh Italian Parsley

1/4

Cup

Finely Chopped Fresh Cilantro

3-4

Cloves

Finely Minced Garlic

2

TBS

Chopped Red Bell Pepper

3/4

TSP

Dried Oregeno

Salt & Pepper to taste

1

TSP

Hot Sauce

Optional
Instructions
Mix all ingredients and let sit for at least 30 minutes. 24 hours is ideal. Then enjoy on beef, chicken, vegetabes and more.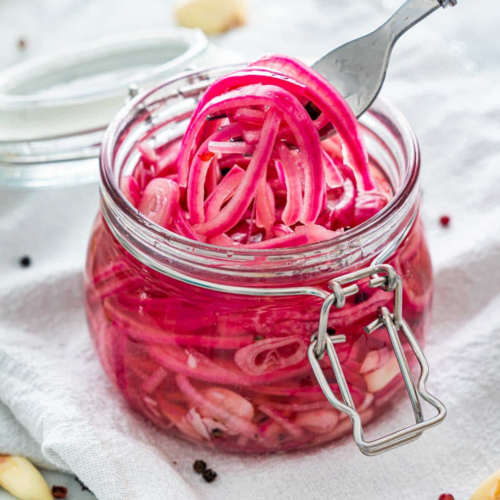 Pickled Red Onions
Ingredients
2

Sma;ll

Red Onions

2

Cups

White Vinegar

2

Cups

Water

1/3

Cup

Cane Sugar

2

TBS

Sea Salt
Instructions
Thinly slice the onions and divide the onions between (2) 16oz Jars

Your pickled onions will be ready to eat once they're bright pink and tender – about 1 hour for very thinly sliced onions, or overnight for thicker sliced onions. They will keep in the fridge for up to 2 weeks.