The Best Big Green Accessories
The Big Green Egg is acclaimed as the highest quality, and most versatile outdoor cooker of all time, offering more cooking options than all other conventional grills combined. From appetizers and entrees to desserts, the Big Green Egg will cook many different foods to culinary perfection. With Big Green Egg, everything is a la carte which begs the question, which Big Green accessories are needed and which Big Green Egg accessories are the best to have? There are many to choose from but we compiled a list of our 10 favorite.
Now I'll start off by saying what accessories are a must have. The EGGcessories that we included in our top 10 are ones that aren't exactly needed, but are great to have. At our shop in Columbus we put together a basic package of everything we think is needed. This package includes, the egg, the nest (stand), ash tool, ash pan, grill gripper, conveggtor, bag of charcoal and firestarters. These are all the basics that will have you cooking right away. That is really all you need, but we all know that we always want more! Whether you are looking for a great gift or looking to upgrade your arsenal, below is our top 10 favorite Big Green Egg accessories.
This is an absolute must have. We included this in the items you need for your Big Green Egg and this list is mostly made up of accessories that you don't need, but I just wanted to make sure that everyone knows to purchase this with your Big Green Egg. With the ConvEGGtor (or platesetter which it was called for 30 years) it will give you the capability to smoke, roast and bake on your egg. This is the tool that really makes the Big Green Egg a Big Green Egg.
The convEGGtor is designed to facilitate indirect cooking on the Big Green Egg by providing a heat-directing barrier between the food and the fire, instantly transforming your egg into an outdoor convection oven. You will use this piece anytime you want indirect heat on your food, like when you're smoking a brisket or cooking pizzas. Whether you are gifting a Big Green Egg or looking to purchase one, make sure to include this piece.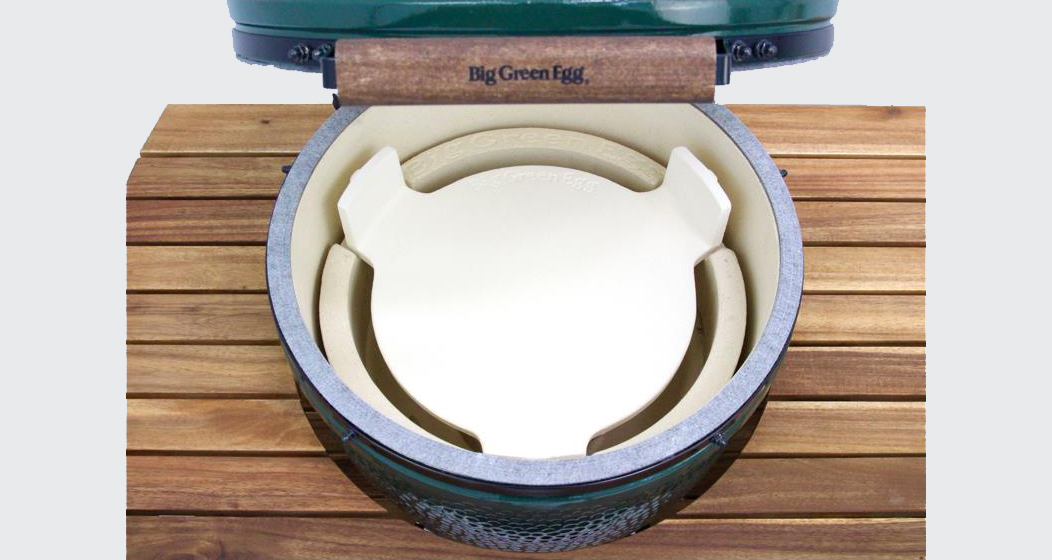 The 5 piece EGGspander system is the ultimate add-on if you are looking to add even more versatility to your Big Green Egg. Let your creativity shine with this expansion system. The Big Green Egg EGGspander System facilitates an extensive variety of cooking setups including an extra cooking surface, an easy holder for your convEGGtor and the ability to do indirect and direct at the same time. It's also capable of doing many other combinations with special add ons like half moon cast iron & perforated cooking grids.
5 Piece EGGspander Kit includes:
convEGGtor basket
Multi-level direct and indirect
Multi-tier cooking racks
Two stainless half grids
Direct "Cowboy Style" lower rack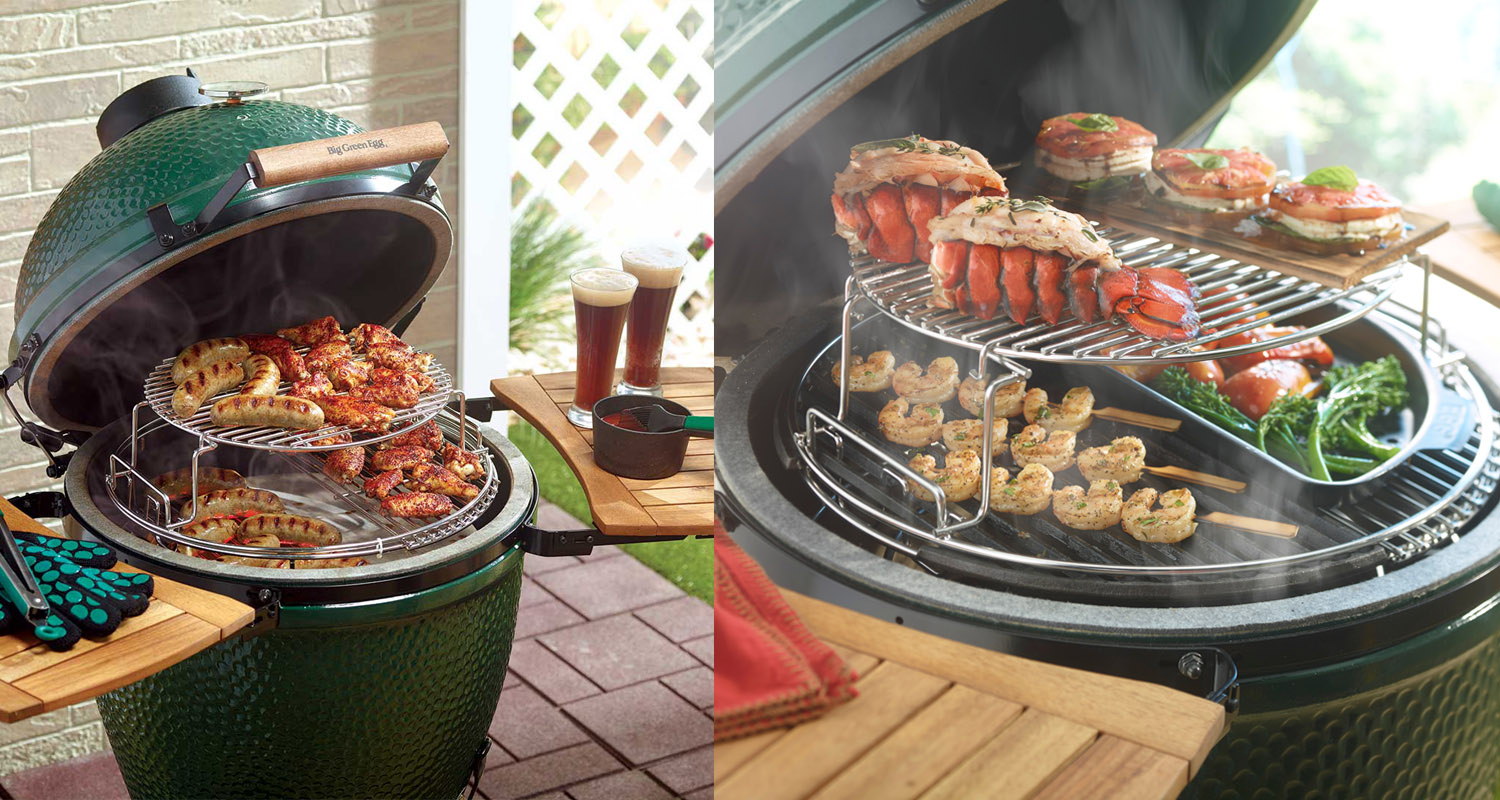 If you're looking to light your Big Green Egg quickly, the electric EGGniter is great for that. It ignites lump charcoal in just minutes by using super-heated air. No need for firestarters anymore with this handy tool. It also has a fan only option when your charcoal is already lit and you want to get your egg hotter quicker. This tool lights much quicker than their electric charcoal starter and lasts much longer.
Honorable mention: If you don't want to use electric and would rather use gas, Big Green Egg's new Battery Powered Refillable Butane lighter works well and for a little less money the JJ George Grilltorch is a great tool that will light your egg quickly.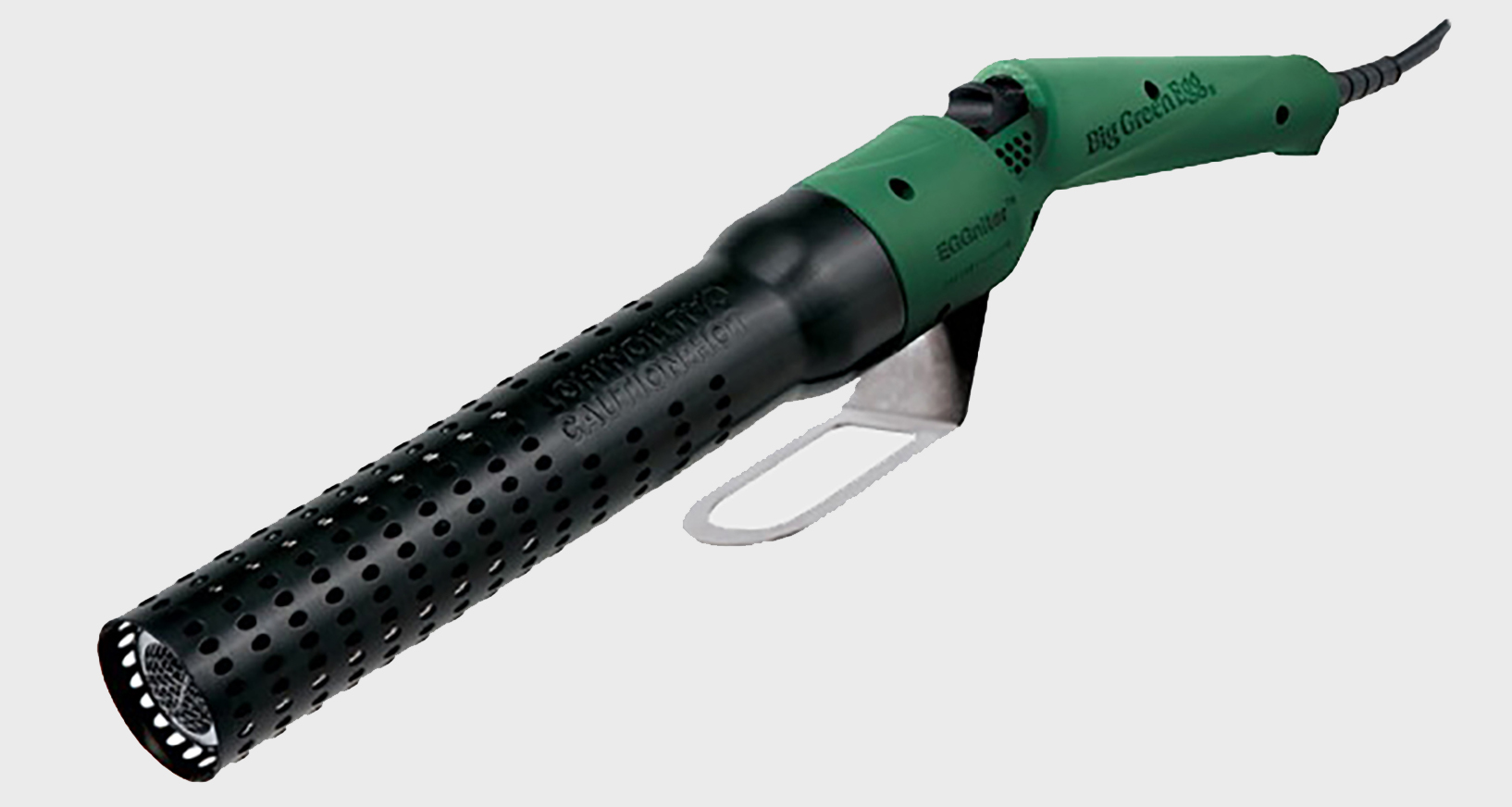 The Big Green Egg Instant Read Thermometer provides accurate food temperature readings in seconds. We all know that keeping your egg open too long not only makes the temperature fluctuate but also affects the way your food will turn out.  Having an instant-read thermometer will take the waiting and guessing game out of checking your food temp. With this instant-read, you can check multiple foods within seconds, helping you cook your food to perfection without having to have your egg open for too long.
Cheap thermometers will have you waiting 10 seconds before it gives you an accurate readout. Spending the extra money to have an instant-read thermometer is money well spent.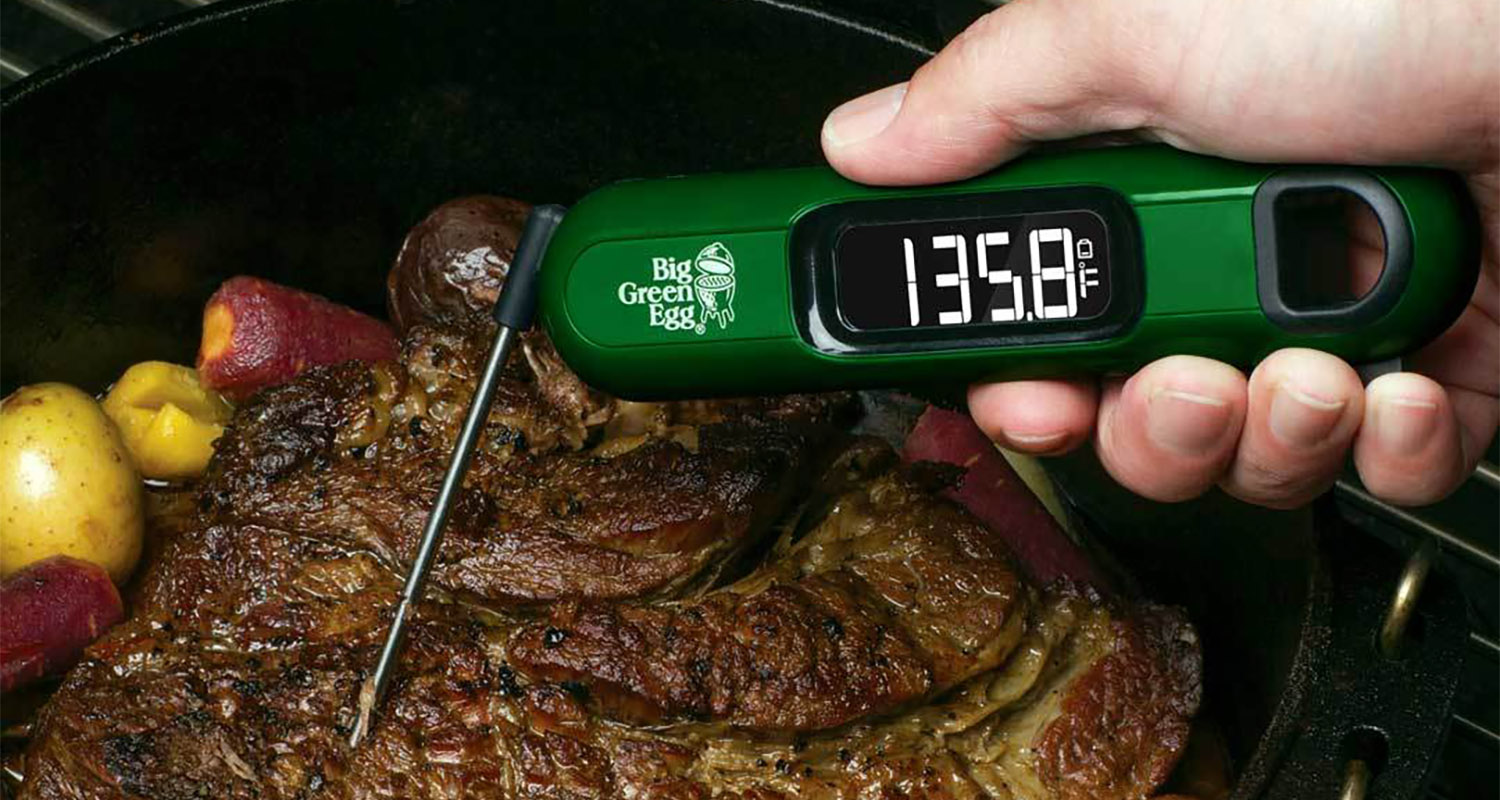 The Kick Ash Basket sifts out excess ash for an easy clean-up and more airflow. All you have to do when you're ready to cook the next time is pick up the basket and shake it over a bin and all the ash will be cleaned out. When you don't clean out your Big Green Egg regularly the holes in the fire grate can get clogged and affect airflow which will make temperature control harder. The kick ash basket will make cleanout extremely easy and allow for more airflow for better temp control and will help get your egg hotter quicker.
Honorable Mention: Big Green Egg has just created their version of the Kick Ash Basket, called the Stainless Steel Fire Bowl. I have never used it but I have seen it in person and it does not feel as heavy-duty as the Kick Ash version but if you like to stick with Big Green Egg branded tools, this would be the equivalent.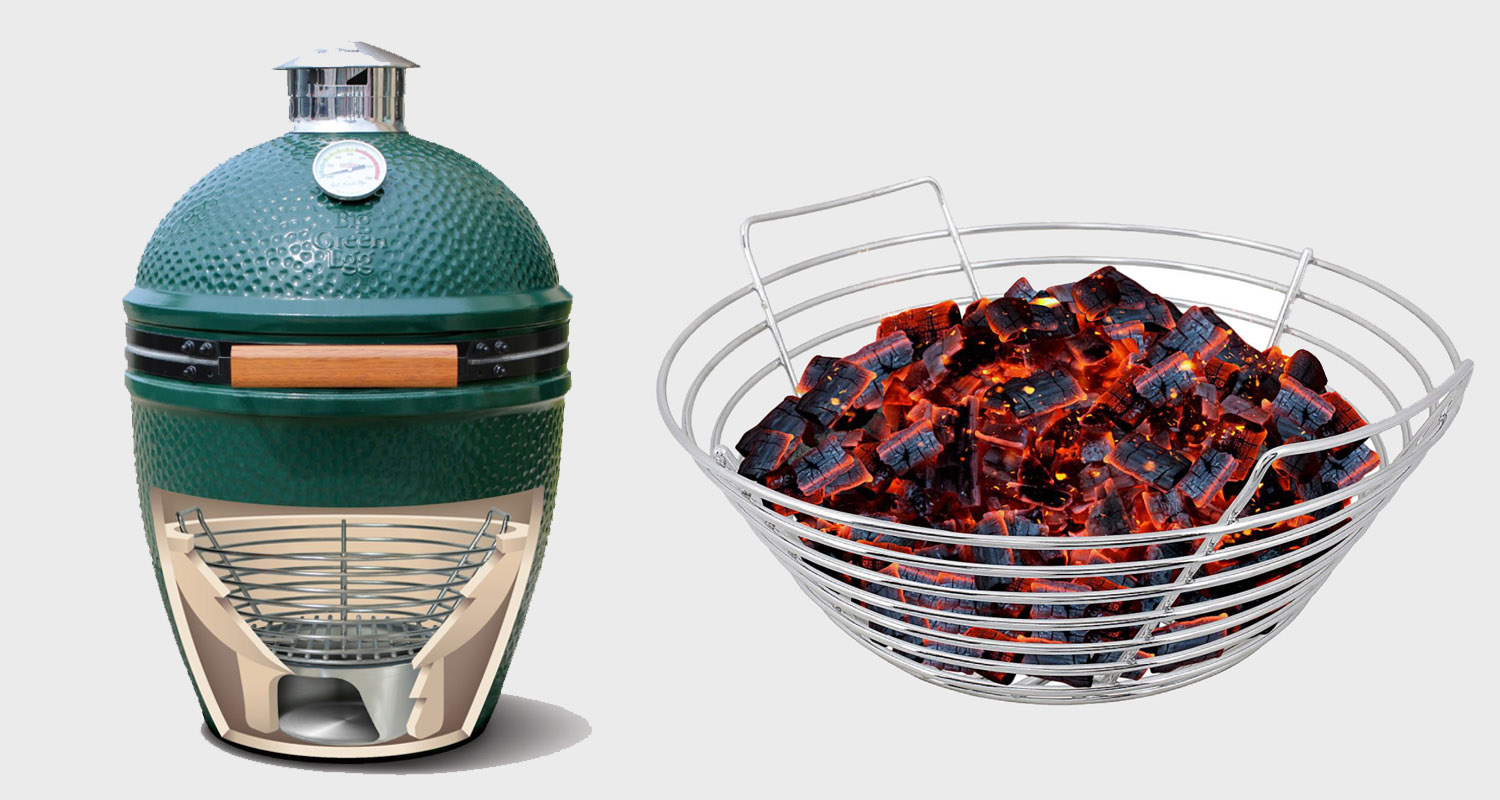 Take the guesswork out of temp control and meat doneness with this accessory.  The Egg Genius effortlessly controls the temperature of your egg through your smartphone, tablet or computer. You can remotely manage and monitor cooking temperatures for worry-free cooking and monitor the temperature of your food at the same time without having to touch anything. You can also view graphs of your past cooks to learn how long your previous cooks took.
The Big Green Egg is relatively easy to use and this tool is definitely not needed, but if you need to make sure a cook comes out perfect, or if you're smoking a brisket overnight and want to sleep soundly, this is the ultimate temperature control tool.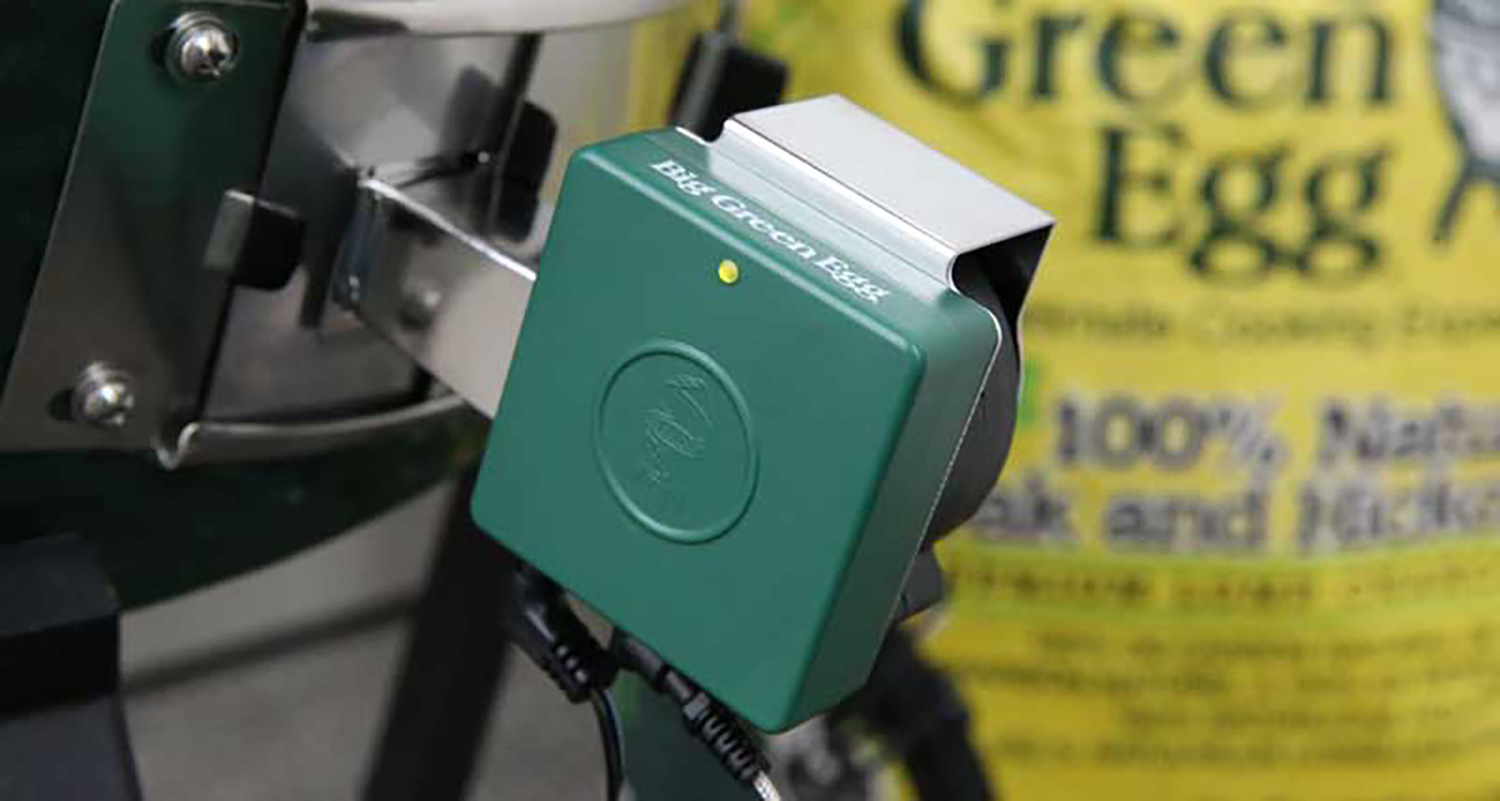 The EGGmitt BBQ Glove is a great grilling glove that is made with durable heat-resistant fibers and features a soft cotton lining and BPA-free silicone textured surface for easy grip. When cooking over charcoal it can get hot when you're cooking multiple things at once like wings. These gloves will help keep the hair on your hand and forearm intact when you're flipping your food!
Now, this is just one of many BBQ gloves you can get, if you want gloves that will be able to withstand picking up a convEGGtor, then I would recommend getting some flamex gloves. With flamex gloves, you will be able to remove the convEGGtor mid-cook if you need to switch from indirect to direct cooking like when you're reverse searing a steak.
Helpful Tip: Always make sure to burp your Big Green Egg when cooking at high temperatures! Yes burp. Learn more about that here>>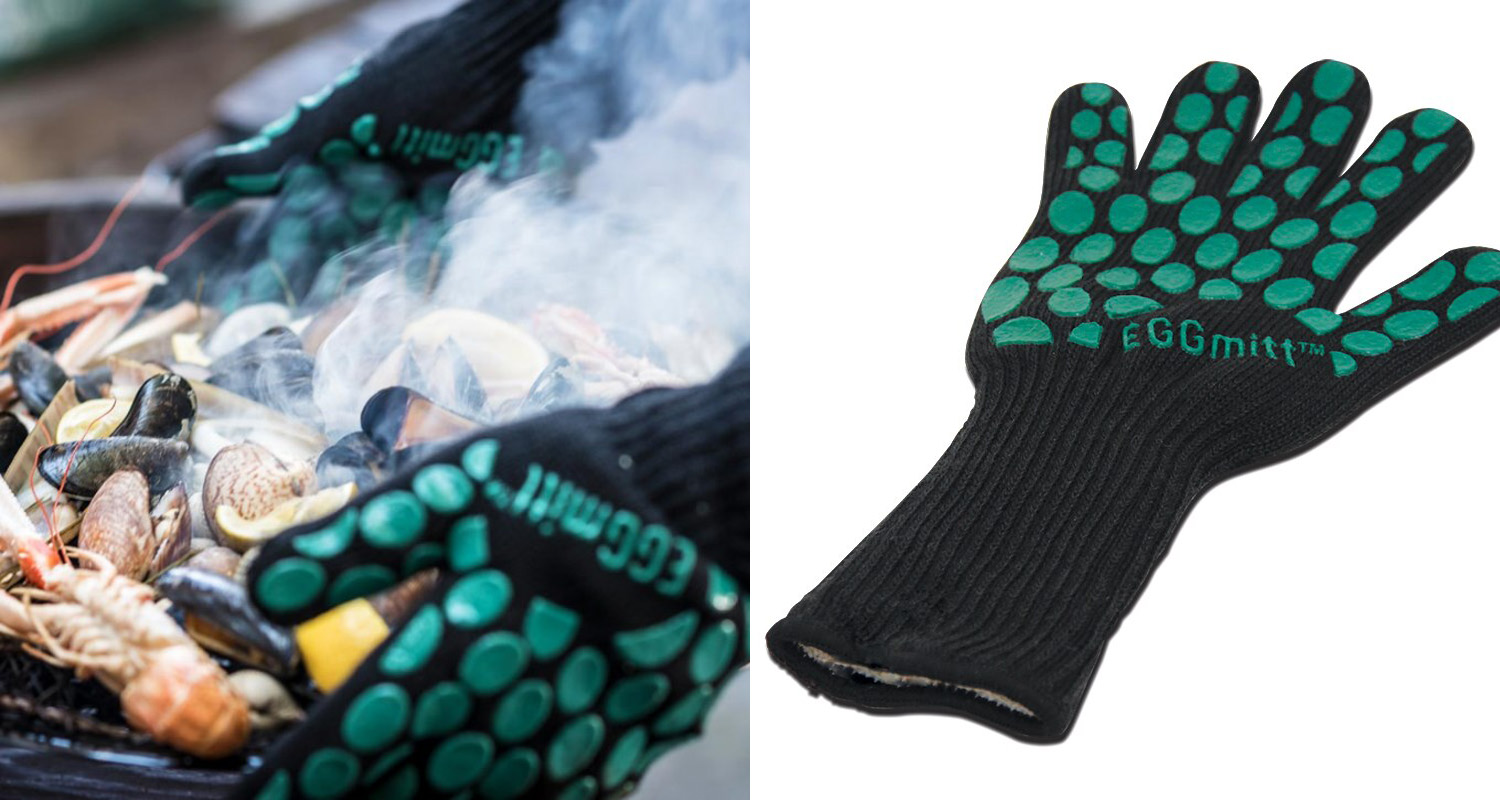 If you aren't cooking pizzas on your Big Green Egg, you need to start now! The wood-fired taste from cooking pizzas on an egg is absolutely delizioso! 
In this instance, I would purchase the Big Green Egg branded stone. Be careful using your pampered chef baking stone in your Big Green Egg, they will eventually crack under the heat. The Big Green Egg stone is rated to withstand the heat the egg pumps out. This stone is not only used for pizzas but baking also. You will be able to cook cookies, breads and all types of desserts with this baking stone.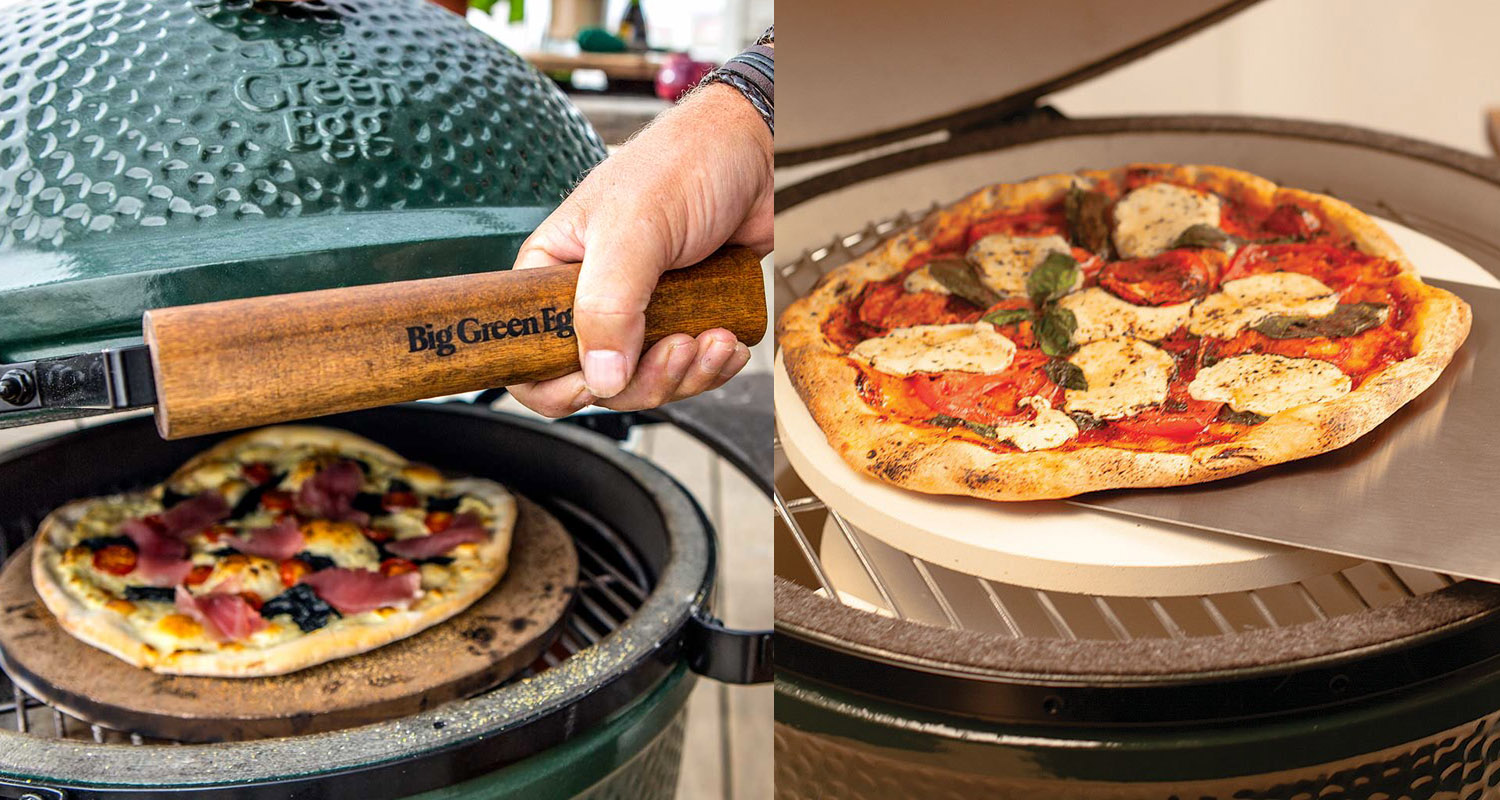 The dual-purpose, stainless steel Rib and Roast Rack is a great multi-use tool. This rack can be used upright to hold roasts and poultry or can be flipped over to serve as an efficient rib rack, fitting 6 racks of ribs sideways. Great for Thanksgiving turkeys and Christmas roasts and when you're having people over for the big game and you need many racks of ribs to feed everyone.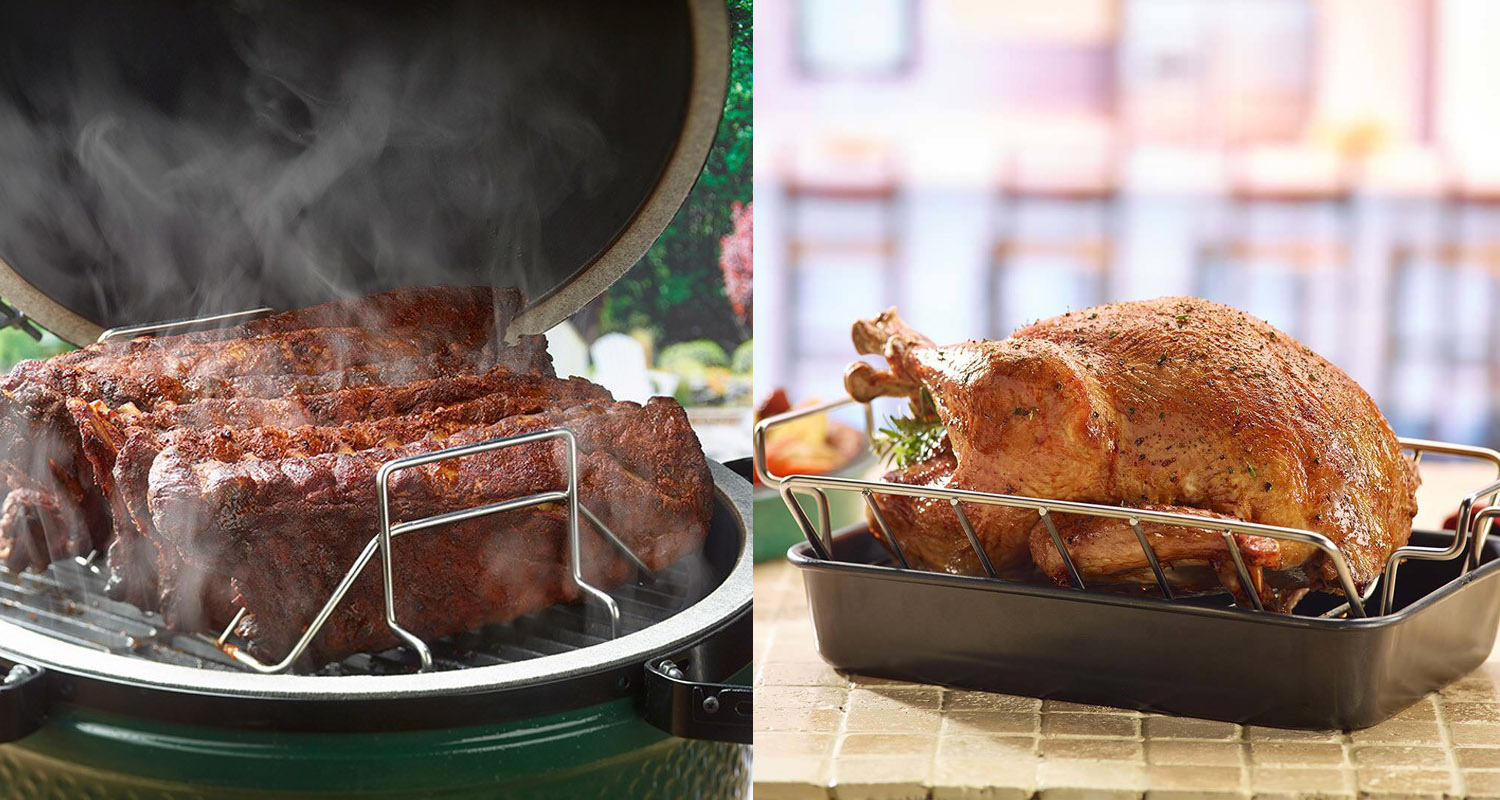 Are you tired of shredding your pork shoulders by hand or with forks? Then you need this tool. These high-quality meat claws will make shredding larger pieces of meats like pork shoulder, chicken or beef roasts much, much easier. Your forearms will thank you.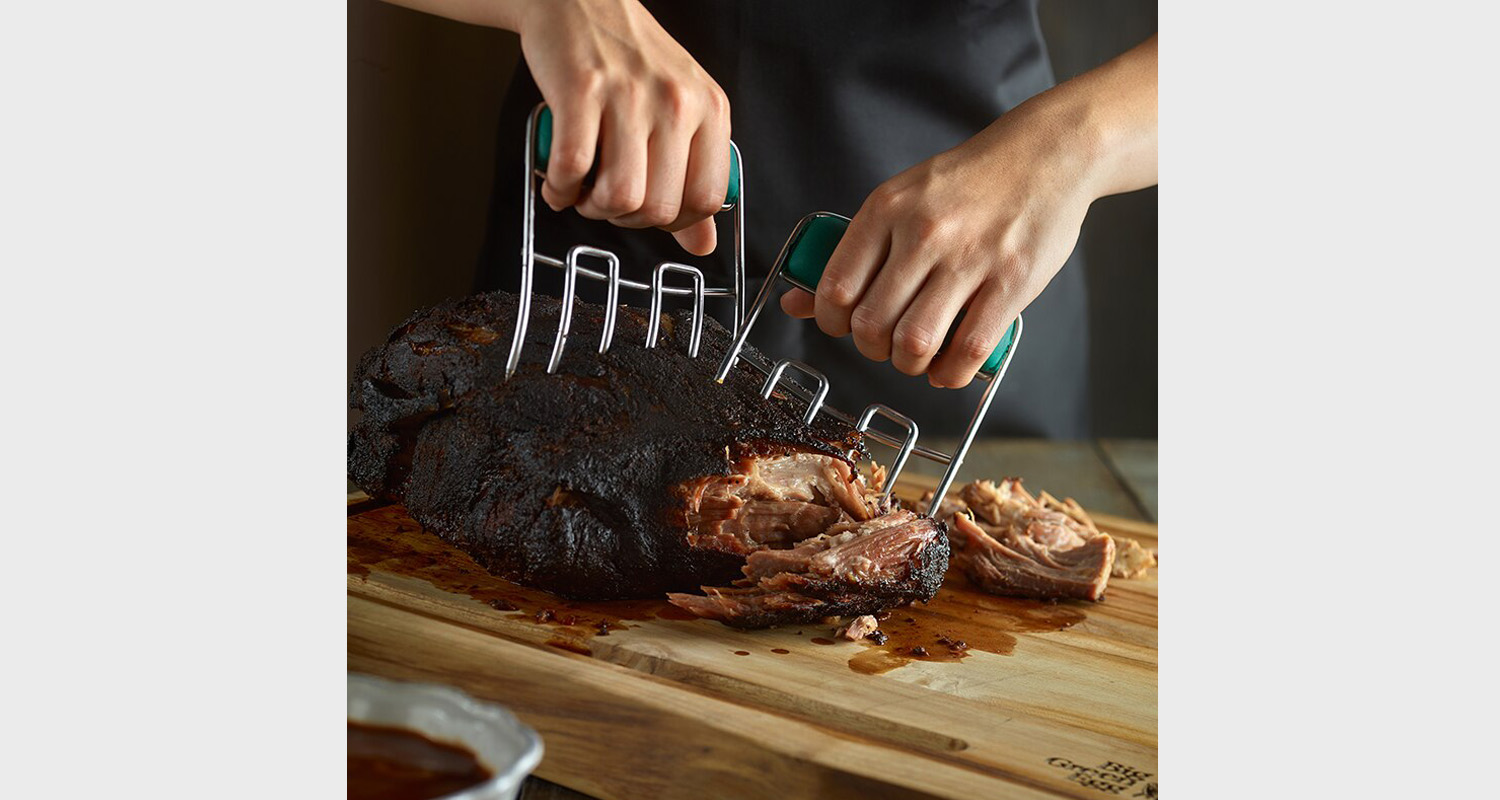 ---
Don't see your favorite Big Green Egg accessory? Drop a comment below with your favorite one. For more grilling tips and BBQ events, follow us on Facebook and Instagram! Or if you are in the market for a new BBQ Grill, check out our selection of the finest grills in the industry.