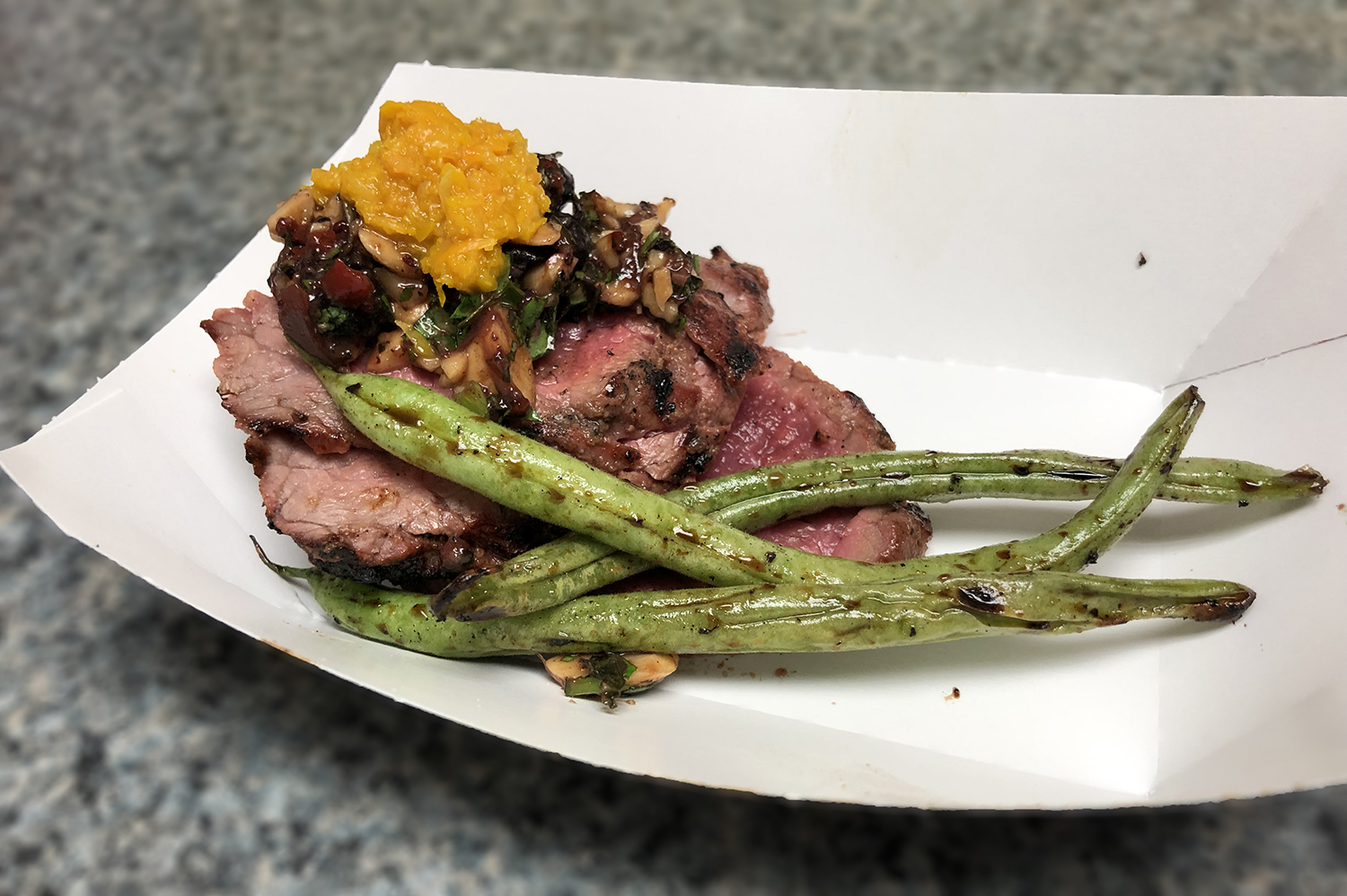 Japanese Inspired Summer Steaks with Marinated Green Beans, Fermented Blueberries, Grapefruit Kosho and Pepper and Strawberry Compote
---
Marinated Steaks
Ingredients:
Bistro steaks aka petite tenders aka chuck tenders, etc, about ½ lb per person
2 tbsp white miso for every 1 lb steak
Directions:
If needed, dilute the miso with a small amount of water to get it moving. Mix the steaks into the marinade thoroughly, and cover tightly. I have not discovered an upper limit to the marinating time: they keep getting better as they sit, eventually becoming basically a cured product.
Fermented Blueberries Recipe
Ingredients & Directions:
Toss blueberries in salt to coat, compress lightly in nested containers. Gently stir once per day for five days, more or less depending on ambient temperatures. If you want to be precise, weigh blueberries in grams, and add 2.5% salt by weight. Alternatively a couple teaspoons per pint should do it.
Grapefruit Kosho Recipe
Ingredients:
Zest and juice of two grapefruit
Zest of four oranges
Zest of two lemons
4 small habanero, seeded and minced
1 sweet red or yellow bell pepper, minced
2 cloves garlic, minced
1 tbsp unrefined sea salt
2 tsp honey
Directions:
Spread citrus zests out to dry at room temperature for 3-5 hours, then combine the rest of the ingredients. Kosho keeps for about a week to ten days refrigerated.
Pepper and Strawberry Compote Recipe
Ingredients:
½ lb strawberries
½ lb red bell pepper
2 tbsp shallot
2 cloves garlic
¼ cup honey
1 tbsp mirin
2 tsp soy sauce
1 tsp water
1 Tbsp watermelon juice (or other melon or white grape if melon juice not available/too much hassle)
Directions:
Rough chop solid ingredients, then combine everything but the watermelon juice in a small saucepan and simmer over medium heat for about an hour, then add the juice, pulse in a food processor and season to taste.
Marinated Beans Recipe
Ingredients:
1 lb green beans
¼ cup fish sauce
¼ cup mirin (sweet Japanese wine)
1 tsp rice vinegar
1 tsp sesame oil
Directions:
(combine up to 4 days ahead, cover and refrigerate)
Summer Tapenade Recipe:
Ingredients
1/2 cup strawberry compote
1 tbsp fermented blueberries
2 tbsp marcona almonds
A good grip of assorted herb leaves. (I like mint, thai basil, cilantro, and parsley as a base combo but it can get really eccentric if you want. Lovage? Sorrel? Savory? Marjoram? Just grab whatever looks fun at the Saturday market and chuck it in here)
Cook and Assemble:
Prepare a grill for direct, high-heat cooking. Scrub your grates well. Temper steaks to room temperature for an hour before cooking. Grill to rare or, if you must, medium-rare (if you prefer a more done steak, select a fattier cut, such as flank or strip. Bistro steaks are lean and can dry out easily.) Rest the steaks.
While they're resting, set up a perforated pan on the grill and drain the beans out of their marinade. Grill briefly at high heat. Slice out the steaks, and shingle them out. Place a neat bundle of beans next to them and then arrange a dollop of tapenade along the top.