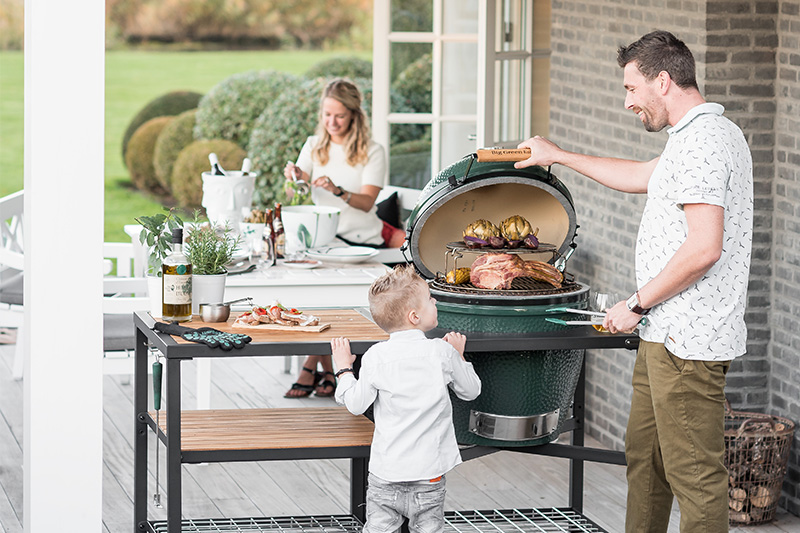 Father's Day Gift Guide!
A great Father deserves the best! We have grills that are in stock and ready to be cooked on. Whether he wants gas, charcoal or a pellet grill, we have you covered! We also have great grilling accessories if he already has his dream grill.
Don't know what to get him? The Ohio Eggfest tickets will make a great gift! Take a look below to also get more ideas on what to get Dad this Father's Day. Feel free to also stop in our shop and let one of our grilling experts guide you to what he will want.
BIG GREEN EGG
The gift that keeps on giving! From appetizers and entrees to pizza and desserts, the Big Green Egg will exceed all of your expectations for culinary perfection. When you gift a Big Green Egg, you will be gifting the highest-quality outdoor cooker ever made. This gift is a win win, you gift the ultimate cooker and then in return, get amazing food cooked for you!
THE OHIO EGGFEST DEMO BIG GREEN EGG
Want to save over $500 off retail on a Big Green Egg?! Purchasing a once-used demo Big Green Egg that is used at The Ohio Eggfest is the best time to do it! You will save over $500 off retail, receive 2 tickets to The Ohio Eggfest, and the proceeds benefit cancer research! The catch?! Dad will have to wait until July 30th to pick up his grill. But that will be here before we know it! 
MHP GAS GRILL
Tired of buying Dad a new grill from the big box store every couple of years? Buy him a grill that will last him a lifetime! We have our flagship gas grill, MHP, in stock and ready to be cooked on. With a lifetime warranty on this grill, this will be the last grill that Dad will ever need!
THE LE GRIDDLE!
Everyone wants a griddle. But only the best Dad's deserve the ultimate Griddle, the Le Griddle! This griddle uses high-tech manufacturing from the aircraft industry and is by far the top in outdoor griddles. The whole product is made from 304 stainless steel and has a lifetime warranty ensuring he will be cooking breakfast, hibachi, smash burgers and more for many years to come!
BIG GREEN EGG AND BBQ ACCESSORIES
NEANDERTHAL CUTTING BOARDS & FIRE POKER
We have a huge selection of great BBQ rubs, seasonings and sauces. What Dad couldn't use more seasonings?! Below is a sample of what we carry, but click on the link below to see our entire selection, or stop in and let one of our experts help you pick out the best ones. 

FARTLEY FARMS HOT SAUCE
(LOCAL)
CAN NEVER GO WRONG WITH MORE CHARCOAL!
Support Honor Flight Columbus by purchasing a puzzle for Dad. 100% of the proceeds go towards taking American veterans from WWII through the Vietnam War on a trip to Washington DC to visit their service and war memorials. We have 2 different puzzles to choose from.

HONOR FLIGHT PUZZLE
DRINK N' PLATE!
This fantastic invention will hold his food and drink, leaving a free hand for Dad to flip the burgers!

THE INFAMOUS DRINK N' PLATE!
Follow us on Facebook & Instagram for more great tips and deals!